Face Book
Kenneth R. Martin On Face Book
World Gospel Network Promotion
We Are Working To Promote Our New WGNCelebity.org
January , 2012
Who Lived On The Ocean Floor When The Ocean Was Not There Before The Flood In Noah's Time 2509 BC to 2508 BC ?
Was It Aliens ?
I Believe It Was Adam and Eve's Descendants
Read The Story On Our News Website
and more information on our World Gospel Ministry website,
Our New CD Offer
Our New Disk
What's Coming Next ?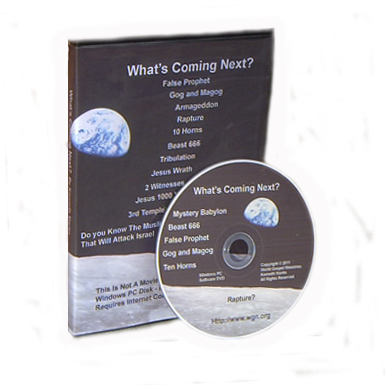 Has Been Completed!
Donation Of $29.95 USD and Shipping is free In Continental U.S. for each copy
Sunday September 16,
2007___ 1:28 P.M. C. S. T.
Public Notice :
We Broadcast In Multicast and Unicast. If You Do Not Receive Our Multicast Broadcast, Then The Problem Is Your Internet Service Provider. Tell Them To Turn On Multicast So You Can Receive Our Multicast Broadcast. Our Unicast Servers Can Only Carry A Limited Number Of Viewers. Multicast Opens The Door To Unlimited Viewers To Our Broadcast, World Wide.
ISP Notice:
We Are ISP Friendly. We Are Formated To Widescreen Mode ( Not Letterbox Mode ). We Are Formated To Low Bandwidth Only, Targeting Dialup Customers To Be Included With Broadband Viewers. Our WGN Multicast Server Can Be Easily Multicast Without Overload On Your Servers. I Don't Believe You Will Know Any Difference In Load At Our Bandwidth We Broadcast At If You Enable Multicast From WGN.
Notice From World Gospel Ministries
We Have Moved Our Other Domains To Their Own Websites
Links Are On The Left Side For;
International World Gospel Ministries
The End Is Near
And many false prophets shall rise, and shall deceive many. And because iniquity shall abound, the love of many shall wax cold. But he that shall endure unto the end, the same shall be saved. And this gospel of the kingdom shall be preached in all the world for a witness unto all nations: and then shall the end come.
GO YE THEREFORE
World Gospel Ministries has a Vision to take the Gospel to the Whole Wide World in every language. Through the commission of our Lord and Savior " Jesus " to Preach and Teach this Gospel. Our prayer is to help fullfil this commission by use of the internet . We ask for your prayers and support to fullfil this Commission